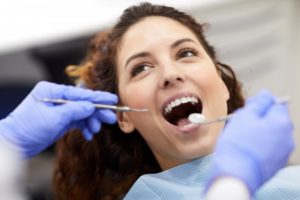 Your mouth is made up of more than just your teeth, so if you're unhappy with your smile, it may be because of your gums. Whether you have a "gummy" smile, or they look uneven, you'll be happy to know there is a solution. With gum recontouring, your cosmetic dentist can reshape and change the look of your smile in no time at all. Using special tools and advanced techniques, there's no doubt you'll be happy with what you see in the mirror. Find out more about this unique and beneficial procedure and if it's right for you.
When is a Cosmetic Gum Procedure Appropriate?
When in need of a cosmetic dentistry procedure, your dentist will first need to evaluate your smile to determine if you are an eligible candidate. You may benefit from a gum recontouring procedure if any of the following apply to you:
Your teeth look small as a result of large amounts of gum tissue
Your gum line is uneven
You have no major oral health problems, and your dentist believes the procedure would be a success
You're preparing for a smile makeover and part of it would include gum recontouring
How Does it Work?
When meeting with your cosmetic dentist, the first step is to undergo a consultation. This is where they will evaluate your smile and determine if you're a qualified candidate. If so, you will notice that your dentist will use a soft tissue laser to reshape your gums. This small, portable, handheld device gently removes gum tissue with its laser, all while cauterizing the tissue. This helps to minimize bleeding and forgo any stitches.
You can expect the entire process to take a little more than an hour, and don't worry, you'll feel no pain or discomfort and will be completely comfortable.
What is the Cost for Gum Recontouring?
Each patient is different, so you can expect different factors to determine how much your procedure will cost. Some of these factors might include:
The severity of the problem
The type of reshaping you will have completed
Any pre-gum recontouring dental work needed
The amount of area needing reshaping
What Can You Expect with Treatment Aftercare?
Once your cosmetic dentist is finished with reshaping your gums, you will need to adhere to the following tips to ensure thorough healing:
Eat soft foods that are cool in temperature until your tissue heals
Avoid spicy or hard foods
Continue to practice good oral hygiene habits but be careful so as not to damage the tissue
Don't continue to be unhappy with your smile. Opt for a solution that can fix and transform your smile into something beautiful.
About the Author
Dr. Minh-Phuong Bui attended Regis College and graduated Magna Cum Laude with a bachelor's degree in biochemistry. She then went on to earn her Doctor of Dental Medicine degree from Tufts University School of Dental Medicine. Dr. Bui is passionate about helping others achieve healthy, beautiful smiles, and as a member of the Southeastern Dental Care team, she and her colleagues will work to ensure you are happy with your smile when you leave our office. From general cleanings to gum recontouring, we want you to have improved confidence when looking in the mirror. To learn more about the services we offer, visit our website or call (508) 947-5717.