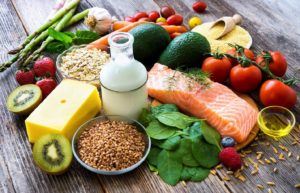 Making wise nutritional decisions is vital. Consuming an adequate amount of vitamins and minerals helps you function at your best, while the calories you take in fuel your body for your daily activities. Your eating habits can also have a huge impact on your oral health. Since March is National Nutrition Month, it is the perfect time for you to pause to consider how your diet may be affecting your smile. Here is some guidance on how to design a tooth-friendly diet.
Sugar: Oral Health's Enemy
Most foods, including healthful ones likes fruits and vegetables, contain sugar. However, if you go overboard on sugar consumption, you'll increase your risk of tooth decay and gum disease. That's because sugar interacts with the bacteria in your mouth and creates plaque. Plaque contains acids that damage tooth enamel. The bacteria in it can even sneak into the gums and cause painful inflammation.
You should always be mindful of your sugar intake, so it's a good idea to read nutrition labels and choose foods that have low levels of the sweet stuff. After you indulge in a sugary treat, be sure to sip on some water to rinse away lingering food particles and bacteria.
Nutrients Fight Oral Health Problems
Avoiding sugar is important, but what you do eat is just as important as what you don't eat. Some key nutrients that promote oral health include:
Calcium and other minerals. These help to strength the tooth enamel.
Antioxidants. Vitamin C, catechins (found in tea, especially green tea), and other antioxidants fight free radicals that cause inflammation.
Natural antibiotics. Some foods, including garlic and onions, promote have the ability to fight harmful oral bacteria.
If you're not sure of exactly what you should be eating to protect your teeth and gums, visit your dentist. They can give you specific tips for what to avoid and what to eat. Your primary care physician can also help you put together a diet plan that is good for your whole body, including your mouth.
When You Eat Matters Too
Every time you eat something with sugar or acid in it, you initiate an "acid attack" that temporarily weakens tooth enamel and more makes it more susceptible to damage. The shorter and less frequent you can make these windows of vulnerability, the better. That's why it's best not to snack mindlessly throughout the day or continually sip on a soda all afternoon. Finish your foods and sugary drinks relatively quickly so you can keep the acid attacks to a minimum.
Is your diet helping or hurting your oral health? If you see room for improvement, now is the perfect time to start making changes that will help you save your teeth and gums from future problems.
About the Author
Dr. Minh-Phuong Bui is an experienced general dentist who is always happy to provide her patients with personalized advice on how they can protect their oral health. If it is time for your next checkup, or you would like to learn more about Dr. Bui and our practice, contact us today at 508-947-5717.