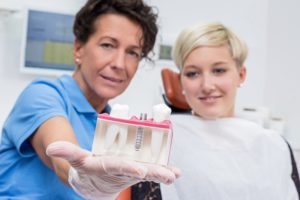 It's unlikely that any dentist will take a one size fits all approach to dentistry, but few dental practitioners would argue that there's a better solution than dental implants for patients struggling with advanced tooth loss. Traditional partial and full dentures only restore about 20% of healthy chewing function. This significantly limits the diet of those patients who need advanced tooth replacement. Instead, we recommend patients consider replacing their lost teeth from the roots up with implant supported dentures. In this post, we'll discuss some of the many reasons why dental implant retained tooth replacement prosthetics are preferred by dentists and patients alike.

The Implant Denture Process
For those patients who decide to move forward with an implant supported denture treatment plan, the process is completed in two phases. During the first phase of treatment, we surgically place three to six dental implant posts to provide support for the partial or full denture. Once the implants have fully fused with the gum and bone tissue, we'll design and place your tooth replacement prosthetic.
Benefits of Implant Dentures
Replacing missing teeth with an implant supported denture offers a number of benefits, including:
Patients will have increased stability with 70% or more chewing ability restored
Patients' implant-retained dentures will remain in place and functional for two decades or longer compared with restoration every five to ten years for traditional dentures
Patients speak more clearly and smile more confidently with the natural function of an implant denture
Am I a Candidate for Implant Dentures?
Thanks to advances in dental implant techniques and technologies, more patients than ever before are able to receive restoration using dental implant supported dentures. However, the best candidates for implant restoration are relatively healthy, have adequate healthy bone and gum tissue to support the implants, and haven't had any negative past experiences with surgical treatments.
Meet the Southeastern Dental Care Team
At Southeastern Dental Care, we pride ourselves on offering a wide range of preventive, restorative, and cosmetic dentistry services. Our skilled dentists and caring dentistry team members provide patients with personalized treatment plans to help them achieve and maintain the healthiest smiles and keep them for a lifetime. If you want to learn more about dental implant tooth replacement or any of our other dentistry services, please don't hesitate to give our Lakeville dental office a call. We'll be happy to answer your questions and schedule a convenient appointment time for you to come and visit our caring dental team for all of your oral health needs.